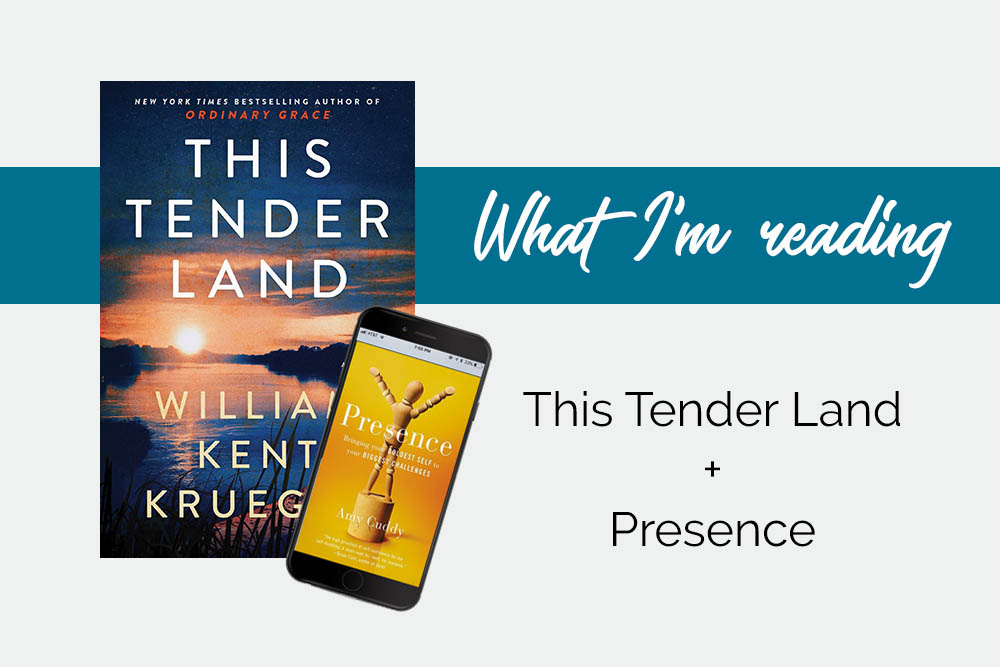 What I'm reading: 10/5/19
Current fiction read
This Tender Land
By William Kent Krueger
Buy from Amazon
Published September 3, 2019 by Atria Books
This was my September Book of the Month pick. I don't do a lot of historical fiction but the description for this one really grabbed me.
Synopsis from the Book of the Month website:
1932, Minnesota — the Lincoln School is a pitiless place where hundreds of Native American children, forcibly separated from their parents, are sent to be educated. It is also home to an orphan named Odie O'Banion, a lively boy whose exploits earn him the superintendent's wrath. Forced to flee, he and his brother Albert, their best friend Mose, and a brokenhearted little girl named Emmy steal away in a canoe, heading for the mighty Mississippi and a place to call their own.
Over the course of one unforgettable summer, these four orphans will journey into the unknown and cross paths with others who are adrift, from struggling farmers and traveling faith healers to displaced families and lost souls of all kinds. With the feel of a modern classic, This Tender Land is an en­thralling, big-hearted epic that shows how the magnificent American landscape connects us all, haunts our dreams, and makes us whole.
I'm about halfway through and really loving it. The writing is gorgeous and the characters jump off the page. One thing I really appreciate so far is how the author balances the cruelty encountered by the Native American children with the compassion demonstrated by many of the characters. Odie, the narrator, even comments on the irony of a scoutmaster coming to the school to hold Boy Scout meetings — noting that if the white men hadn't interfered in the first place, the Native American students certainly wouldn't need white men to teach them things like how to pitch a tent or start a fire. Odie is a twelve-year-old boy with a big heart who is grappling with heavy questions of faith, integrity, and resilience against the backdrop of a life that is difficult, traumatic, and often unjust.
I wasn't familiar with Krueger previously but he's written a ton of books, many of them set in northern Minnesota. I was in northern Minnesota recently and I saw this book everywhere. I went to meet up with my husband while he was completing a thru-hike of the Superior Hiking Trail. His hike actually inspired me to start writing a thriller set in northern MN, so it was a bit of a happy surprise to discover Krueger's writing. And he's going to be at my local library next week! I love author events and I'm looking forward to hearing him discuss the book.
At the time of this writing, this has a remarkable 4.47 average rating on Goodreads.
Current non-fiction audiobook
Presence: Bringing Your Boldest Self to Your Biggest Challenges
By Amy Cuddy
Buy from Amazon
Published December 22, 2015 by Little, Brown
I like to listen to non-fiction, especially self-help, on audio. I would call this self-help but it's very rooted in research (Cuddy is a Harvard professor and researcher who is best known for her TED talk on body language) and might appeal to people who "don't do" self-help.
From the synopsis:
By accessing our personal power, we can achieve "presence," the state in which we stop worrying about the impression we're making on others and instead adjust the impression we've been making on ourselves. As Harvard professor Amy Cuddy's revolutionary book reveals, we don't need to embark on a grand spiritual quest or complete an inner transformation to harness the power of presence. Instead, we need to nudge ourselves, moment by moment, by tweaking our body language, behavior, and mind-set in our day-to-day lives.
I'm about 35% percent finished with this, and I'm enjoying it but I don't know that it will earn a spot on my list of favorite self-help books. Cuddy's definition of presence includes things like authenticity, mindfulness, and vulnerability. I'm a self-help junkie, so I've read about all these topics in books that explored them more deeply. Maybe that's why, although I find Cuddy's take on presence valid, the material isn't exactly blowing my mind. I did really enjoy the chapter on Impostor Syndrome — something many of us can relate to — which includes an interview with author Neil Gaiman.
Some reviews on Goodreads complain that the book contains too many stories and excerpts from emails that Cuddy has received. I like the stories. Storytelling is an effective way to present research in a memorable way. Cuddy's own story is pretty remarkable: she suffered a traumatic brain injury in a car accident during college, and doctors told her she would struggle to regain her mental capacity. Though she had to leave school and essentially had to re-learn how to learn, she eventually returned to college and went on to earn a Ph.D. in Social Psychology from Princeton University.
Average Goodreads rating: 3.94
Related reading
Daring Greatly, by Brené Brown
Book I'm struggling with
Searching for Sylvie Lee
By Jean Kwok
Buy from Amazon 
Published June 4, 2019 by William Morrow
I started this a while ago but it wasn't really holding my attention, and I set it aside to read something a little lighter while I was on vacation. I haven't officially marked it as DNF yet, but now that I'm well into This Tender Land (and have lots of other exciting books on my radar), I'm not sure if I'll actually get back to.
Average Goodreads rating: 3.71
About Book of the Month
I love my Book of the Month membership! They offer 5 new release hardcovers every month. Membership is $14.99 per month, plus you can add-on extra books for only $9.99 each. That's way cheaper than buying new releases in the store. They also often have early releases of new books before they hit the shelves. If you don't like any of the selections for that month, you can skip and you won't be charged. And, once you receive 12 boxes, you reach BFF status, which means you get a free tote bag, a free add-on during your birthday month, and your choice of one of the 5 Book of the Year finalists for free. Who doesn't love free books??
Sign up for Book of the Month using my referral link and get a free book!
Tags In
Karen Eisenbraun
Karen Eisenbraun is a writer and a Certified Holistic Nutrition Consultant. She has written extensively on the subjects of nutrition and holistic health for many leading websites. She is currently seeking an agent for her debut novel, based on her experiences in West Africa as a Peace Corps Volunteer, and is working on a second manuscript.

Karen
has
read 18 books toward
her goal of
60 books.