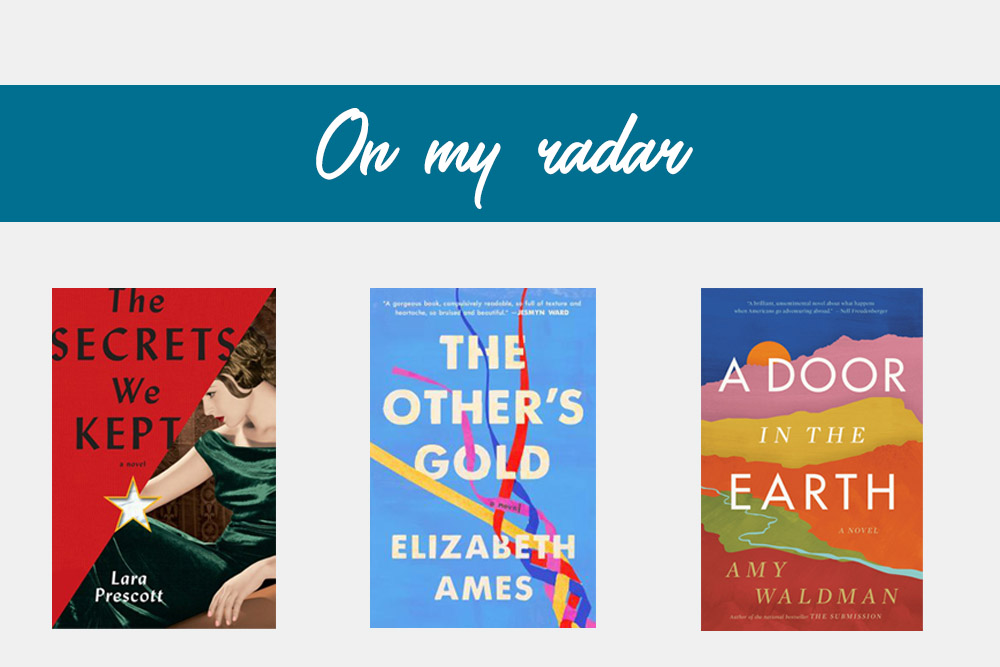 3 recent releases on my radar: October 2019

The Secrets We Kept
By Lara Prescott
Buy from Amazon
Published September 3, 2019 by Knopf
This is one of those novels that didn't grab my interest right away (I don't read a lot of historical fiction), but the more I heard about it, the more I started to feel like I had to read it. This is one of the buzziest novels of the fall and was an instant New York Times bestseller.
Description from Amazon:
A thrilling tale of secretaries turned spies, of love and duty, and of sacrifice — inspired by the true story of the CIA plot to infiltrate the hearts and minds of Soviet Russia, not with propaganda, but with the greatest love story of the twentieth century: Doctor Zhivago.
At the height of the Cold War, two secretaries are pulled out of the typing pool at the CIA and given the assignment of a lifetime. Their mission: to smuggle Doctor Zhivago out of the USSR, where no one dare publish it, and help Pasternak's magnum opus make its way into print around the world. Glamorous and sophisticated Sally Forrester is a seasoned spy who has honed her gift for deceit all over the world — using her magnetism and charm to pry secrets out of powerful men. Irina is a complete novice, and under Sally's tutelage quickly learns how to blend in, make drops, and invisibly ferry classified documents.
The Secrets We Kept combines a legendary literary love story — the decades-long affair between Pasternak and his mistress and muse, Olga Ivinskaya, who was sent to the Gulag and inspired Zhivago's heroine, Lara — with a narrative about two women empowered to lead lives of extraordinary intrigue and risk. From Pasternak's country estate outside Moscow to the brutalities of the Gulag, from Washington, D.C. to Paris and Milan, The Secrets We Kept captures a watershed moment in the history of literature — told with soaring emotional intensity and captivating historical detail. And at the center of this unforgettable debut is the powerful belief that a piece of art can change the world.
What intrigues me most about this book is that it sold for a reported $2 million in a 14-publisher bidding war. For a debut novel, that's insane.
I'm also here for anything that explores the power of literature to change the course of history.
At the time of this writing, it has a 3.82 average rating on Goodreads. Several of the one-star reviews claim the book is boring and that it's difficult to keep all the different narrators straight. I tend to not like books with multiple alternating narrators so hopefully that won't be a major drawback for me. Will most likely read this next!

The Other's Gold
By Elizabeth Ames
Buy from Amazon
Published August 27th 2019 by Viking
Another debut, this one follows the friendship of four women across life-defining turning points. This checks a few of my boxes: character driven, female friendships and chosen family, women reinventing themselves. I'm also intrigued by the structure of the novel, with each part devoted to a mistake one of the characters makes in her life. Sarah at Sarah's Bookshelves said that these are not your run-of-the-mill life mistakes, which makes the story less predictable, and she rated this 5 stars.
Description from Amazon:
Assigned to the same suite during their freshman year at Quincy-Hawthorn College, Lainey, Ji Sun, Alice, and Margaret quickly become inseparable. The leafy green campus they move through together, the idyllic window seat they share in their suite, and the passion and ferocity that school and independence awakens in them ignites an all-encompassing love with one another. But they soon find their bonds — forged in joy, and fused by fear — must weather threats that originate from beyond the dark forests of their childhoods, and come at them from institutions, from one another, and ultimately, from within themselves.
The Other's Gold follows the four friends as each makes a terrible mistake, moving from their wild college days to their more feral days as new parents. With one part devoted to each mistake — the Accident, the Accusation, the Kiss, and the Bite — this complex yet compulsively readable debut interrogates the way that growing up forces our friendships to evolve as the women discover what they and their loved ones are capable of, and capable of forgiving. A joyful, big-hearted book that perfectly evokes the bittersweet experience of falling in love with friendship, the experiences of Lainey, Ji Sun, Alice, and Margaret are at once achingly familiar and yet shine with a brilliance and depth all their own.
Reviews on this one seem a bit divisive. At the time of this writing, it has a 3.37 average rating on Goodreads, with the vast majority of readers rating it 3 stars. A common thread among the lower-rated reviews is that readers didn't feel an emotional connection to the characters and didn't understand their relationships. Some also said that the book is difficult to read because it contains lots of long sentences. But long sentences are totally my jam, if they are well done.

A Door in the Earth
By Amy Waldman
Buy from Amazon
Published August 27, 2019 by Little, Brown and Company
How gorgeous is this cover? I got an ARC of this from NetGalley a while back but haven't gotten around to it yet. I do love multicultural fiction, and Little, Brown tends to put out solid stuff, so this seems right in my wheelhouse.
Description from Amazon:
Parveen Shams, a college senior in search of a calling, feels pulled between her charismatic and mercurial anthropology professor and the comfortable but predictable Afghan-American community in her Northern California hometown. When she discovers a bestselling book called Mother Afghanistan, a memoir by humanitarian Gideon Crane that has become a bible for American engagement in the country, she is inspired. Galvanized by Crane's experience, Parveen travels to a remote village in the land of her birth to join the work of his charitable foundation.
When she arrives, however, Crane's maternity clinic, while grandly equipped, is mostly unstaffed. The villagers do not exhibit the gratitude she expected to receive. And Crane's memoir appears to be littered with mistakes, or outright fabrications. As the reasons for Parveen's pilgrimage crumble beneath her, the U.S. military, also drawn by Crane's book, turns up to pave the solde road to the village, bringing the war in their wake. When a fatal ambush occurs, Parveen must decide whether her loyalties lie with the villagers or the soldiers — and she must determine her own relationship to the truth.
Amy Waldman, who reported from Afghanistan for the New York Times after 9/11, has created a taut, propulsive novel about power, perspective, and idealism, brushing aside the dust of America's longest-standing war to reveal the complicated truths beneath. A Door in the Earth is the rarest of books, one that helps us understand living history through poignant characters and unforgettable storytelling.
The average rating on Goodreads is 3.89, with 38% of readers rating it 5 stars.
What books are you looking forward to this fall?
Karen Eisenbraun
Karen Eisenbraun is a writer and a Certified Holistic Nutrition Consultant. She has written extensively on the subjects of nutrition and holistic health for many leading websites. She is currently seeking an agent for her debut novel, based on her experiences in West Africa as a Peace Corps Volunteer, and is working on a second manuscript.

Karen
has
read 18 books toward
her goal of
60 books.